Evolution of a Logo: Edition 1 (The Nike Swoosh)
This being the first edition, I feel it necessary to provide a little introduction and background information- So I'm thinking of starting a new series of blog posts where I take an extremely recognizable logo of modern brands and dive into it's history and evolution. How and when it was created, how it has evolved or changed over time and it's impact on popular culture.
What exactly is a logo? Quite simply, it's a means to which brands speak to it's customers through imagery. A logo can evoke emotion, inspire ideas and impress values on millions of people. It's a hundred words jam packed into one little icon.
So I'm starting out with the infamous Nike swoosh. It will be a tough act to follow, in part because the story of it's origin is such a great one. If you've never heard it, you are in for a real treat, it's an excellent conversation piece.
The original design was created in 1971 by Carolyn Davidson, a graphic design student at Portland State University, for Phil Knight and his company called Blue Ribbon Sports (BRS).
BRS was launching a new line of athletic footwear and Davidson agreed to provide design ideas for a jaw dropping rate of $2 per hour. In June of '71 Davidson presented a number of designs to the BRS execs, but they ultimately selected what is now known as the Nike Swoosh (see image below). When Knight first saw the logo, he was reported to have said, "Well, I don't love it, but maybe it will grow on me." BRS paid Davidson a grand total of $35 for her work ($192.75 in 2011, according to DollarTimes).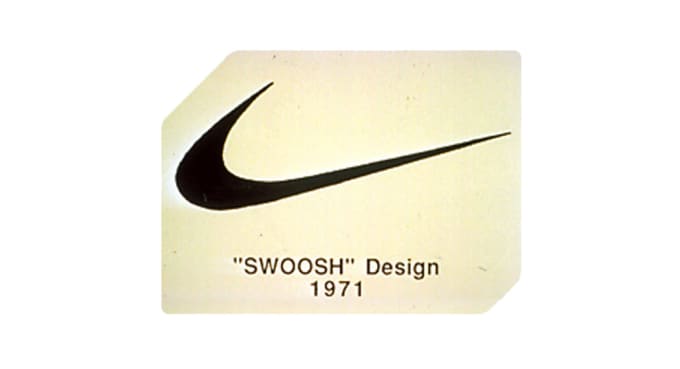 Inspired by the Greek goddess Nike, the winged goddess of victory, the swoosh represents her wing. The company adopted the name for all its operations in 1978.
Overtime the logo has evolved slightly. The word Nike is sometimes printed with the swoosh (see image below), but the swoosh is now so recognizable that the company name itself has become obsolete.
Today Nike employs 30,000 people worldwide and reported more than $19 billion in sales in 2010. With endorsers such as: Michael Jordan, LeBron James, Andre Agassi, Shane Warne, Maria Sharapova, Tiger Woods (well at one time anyway), Venus and Serena Williams… et cetera, et cetera. It's a global phenomenon. You would be pretty hard pressed to find someone in a developed country that doesn't own a shoe, tshirt, and/or a pair of shorts that doesn't have this logo on it.
I'd like to ask Phil if the logo has grown on him yet.
Stay tuned for the next edition.